Presently I´m working on the following projects:
Tessa, Simon and the LBQ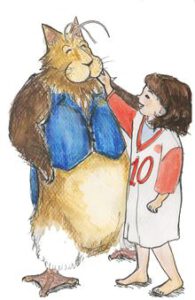 A cross-media project for children aged 5 and beyond
Do moles like perfume? Do crows take voice lessons? Why is there no king bee? What do tomatoes need besides earth, water and light?
Tessa, her best friend Simon and Tessa´s magic toy animal, the LBQ – who comes alive at night and enables her to communicate with nature, explore these and other exciting questions in an entertaining and instructive way.
Project status: Presently four stories and the according radio play versions and game concepts are available in two languages. There are also sketches of illustrations. For this huge project I´m on the look out for a publisher. Please contact me for more information – there is a short exposé as well as a detailed concept.
The Sametimers
In my new novel the interweaving of various time levels is yet again crucial. In the center of the story is thirtysomething Mäx, who despite his miserable financial situation and a broken foot must deal with his tottering career as a flautist, his chaotic band, the demands of various women and the needs of his five year old son Anatol. But when finally suprising house guests turn his life and his notion of the world upside down – he realizes that he needs a new life strategy. But that will only become apparent if he is willing to change a few things – first of all himself.
Project status: Presently I´m continuing research and making a detailed plot sketches
Kitchen Witch
I like cooking – and many who have enjoyed my meals often ask me repeatedly if and when I could teach them, how I cook. For my special ability seems to be that I often cook without a recipe. I simply gaze at the available food and then spontaneously decide what to make from it. Furthermore I have a few principles that I always follow: 1) Preparation should not take much longer than consumption, 2) It takes just as long to cook a good meals as it takes to cook a bad meal – so why not cook a good one right away? 3) All is permitted that tastes good and is easy on the stomach – that can include instant stuff or frozen foods – which then are tuned.
Because so many have been urging me, I´ve finally decided to make my method available in the shape of a little cooking book.
Project status: I´m presently shaping my thoughts into texts and am collecting matching fotos.